Kitchen countertops are the main ingredient in the design recipe for the perfect kitchen. While marble offers innate beauty, the associated maintenance responsibilities aren't quite as lovely. There are plenty of things to regularly clean in your home, and the kitchen countertop shouldn't be one of them. Purchasing a low maintenance countertop is economically smart, as it can save homeowners a bundle on cleaning and/or sealing costs. Do yourself a favor and consider these five beautiful low maintenance kitchen counter materials for your next remodel.
Soapstone
Soapstone marries traditional charm and modern beauty. The natural stone is composed mainly of talc, mica, quartz, chlorite, and iron. Having been used for centuries as a building material, it is impressively durable. While the stone varies in color and veining, it is typically characterized by gray, black, and dark green hues. The material dramatically darkens over time, and marvels in a variety of design settings. The density of soapstone renders it highly resistant to heat, stains, and bacteria. With soapstone, homeowners can breath a sigh of relief. Saving big bucks is a win for anyone.
Engineered Stone
Engineered stone refers to man-made material produced to replicate the look of natural granite and marble. Quartz is one of the most widely used and popular forms of engineered stone. Quartz boasts a slew of benefits including non porosity, durability, zero maintenance, scratch resistance, heat and burn resistance, food preparation safety, and unlimited color design potential. Neolith, an innovative large format compact porcelain surface material, is also making a dent in the engineered stone market. Samsung Radianz engineered stone countertops offer extraordinary strength and mirror the look of natural stone.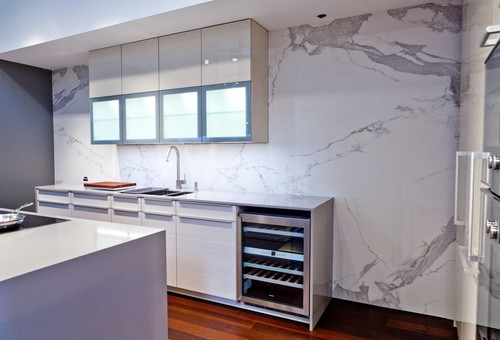 Recycled Glass
Growing in popularity, recycled glass is another low maintenance and beautiful option for your kitchen surface. Eco-friendly recycled glass offers a unique and modern aesthetic, sure to compliment any design. The product is made of crushed glass implanted in a clear resin, and is relatively new. The surface is entirely nonporous, makes cleaning easy. In addition, sealing isn't needed, and recycled glass is heat and stain resistant.
Stainless Steel
Arguably the favorite amongst homeowners, stainless steel countertops are quickly making their way into kitchens around the world. This material is about as low-maintenance as it gets. With a gentle soap, cleaning is a breeze. Furthermore, stainless steel surfaces do not require sealing or refinishing. Durability, heat resistance, and stain resistance, are additional benefits of this low-maintenance surface.
Laminate
While being affordable, laminate surfaces are available in a wide range of colors and patterns. Like the aforementioned materials, laminate countertops don't need refinishing or sealing. The nonporous surface is easy to clean and resistant to stains. However, laminate countertops are made of plastic and prone to heat damage. In the case of such damage, the plastic will lift, separate, and discolor. On the plus side, a replacement installation is fairly inexpensive due to the low cost of the material.